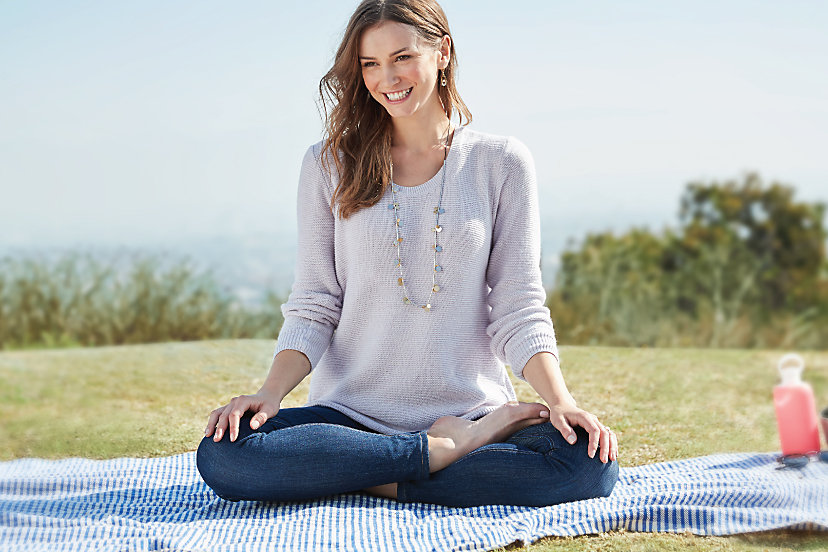 Looks Like a Jean. Fits Like a Dream.
Let's face it. Finding the perfect pair of women's jeans is like spotting a unicorn: only in your dreams. Until now. Lee designers have been developing iconic denim styles for men and women since 1889. So when they get excited about women's jeans, we know they've created something that's going to change everything.
Yoga Pant + Skinny Jean = The Dream Jean You Can't Move Without.
The Dream Jean for women is made with exclusive stretch denim blends with unprecedented power to hold and smooth. That means the Dream Jean retains its shape so you can move confidently through the day. Next, the fit was calibrated to strategically sculpt and deliver a sleek look.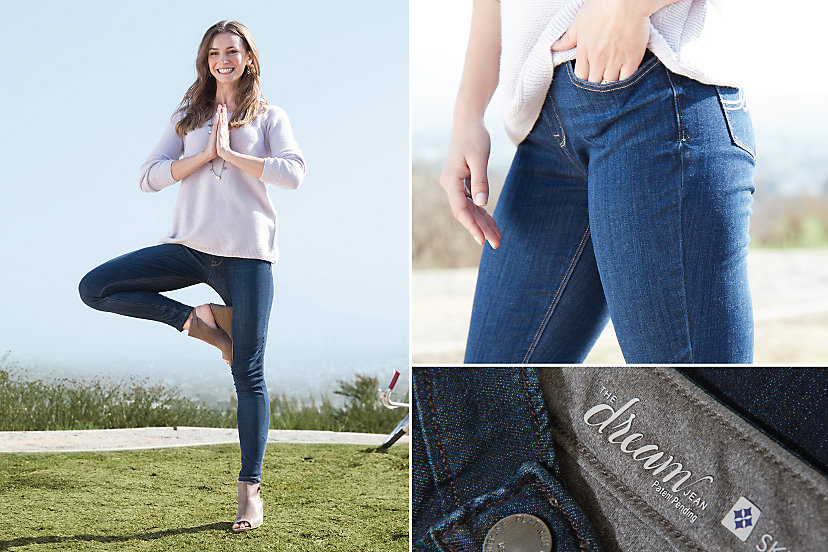 Made to Style.
The women's skinny stretch Dream Jean comes in two styles: Faith Skinny Jean for Women and Harmony Legging for Women.
The Faith Skinny Stretch Dream Jean for women is offered in midrise and eight trendy to classic denim colors. Features five functional pockets, zip fly and button closure. Find your perfect fit in Petite, Misses and Plus sizes.
Harmony Stretch Mid Rise Leggings for women are offered in easy pull on style and slim midrise fit. They come in five denim colors and feature five real pockets. Find your perfect fit in Petite, Misses and Plus sizes.


Made to Wow.
Clearly, the Lee women's Dream Jean is a definite favorite among Lee designers. Style bloggers and fashion influencers also love The Dream Jean, but what about women everywhere? Read on and find out.


Most Comfortable Pair of Jeans Ever - "These are the most comfortable pair of jeans I've ever owned. They fit perfectly and have a nice looking cut as well."
Hannah - Orlando, FL
Favorite Pair of Jeans - "You know how you have that pair of jeans you want to wear every day? Well these are it."
JBon16 - Leander, TX
Perfect - "I am totally delighted with the Harmony Leggings. They are comparable to those I have been paying twice as much for."
Susanna - Dublin, Texas
Favorite Jeans Ever! - "The Harmony Legging is probably the most comfortable jean I have tried. The soft lining is smooth against my skin, and the ultimate stretch allows for unrestricted movement and comfort; they are as comfortable as my favorite yoga pants."
MelindaD - Colorado Springs, CO
I Am In Love with My New Dream Jeans - "I bought these for the first time and I am loving how they feel and wear."
Heather - Greensboro, NC
Don't Hesitate - "Just buy them. Buy one in every color. Throw all your other jeans away. These are so comfortable and very flattering."
Jenelle - Watertown, NY
Unbelievably Comfortable - "Absolutely love these jeans! The inside lining at the waist is wonderfully soft. The stretch on these jeans makes you feel like you are wearing leggings. They move with you with no binding. The style is right on."
PB - Detroit Lakes, Minnesota
Most Comfortable Jeans Ever!!! - "I love these jeans so much I could cry! I feel like I am wearing pajamas. They fit so well, they cling to your body, which makes them very form flattering, but they are so soft and have just enough stretch that they are unbelievably comfy. I have spent so much money on jeans in my life and now I can't imagine myself wearing anything else. I love them!!!"
NicCurtis - Salt Lake City, UT
OMG Best Jeans I've Ever Worn! - "These jeans are soooo comfortable. They are form-fitting without binding or feeling restrictive. The material is soft and comfy. There is plenty of stretch, but they don't look like stretch pants - they look like jeans."
Ceetee - Pacific Coast
Modern Series Dream Jean by Lee
Modern Jeans for Women and Plus Women.