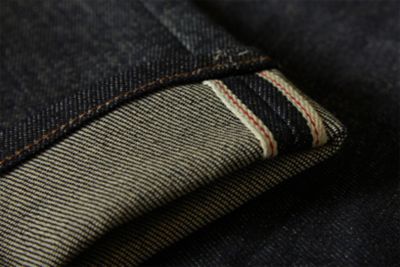 CAREFULLY CRAFTED & ONE OF A KIND
There's a nuance to creating selvedge denim. We've stopped at nothing in seeking out the best materials to bring historical Lee styles to life, which were worn by cowboys and rodeo champions. Using only the finest fabrics from some of the most esteemed and sustainable mills across the globe, including Candiani, Kaihara, Kurabo, and Kuroki, we've recreated the most iconic pieces from our archive in incredible detail to celebrate Lee 101's illustrious past. From rich indigo blues to dry black hues, this archival denim is set apart by beautiful characteristics and its one-of-a-kind nature. This collection also showcases remarkably authentic workwear pieces in the form of a duck canvas, denim shirting, chambray, and hardy wool. With the latest Lee 101 collection, you'll find the cleanest, most conventional interpretation of our foundational designs. After all, no one does selvedge denim and era-defining workwear quite like Lee.
SELVEDGE WITH A STATUS
WHEN YOU OWN A PIECE FROM THE LEE 101 COLLECTION,
YOU OWN A PIECE OF AMERICAN HISTORY.
EVERY STITCH TELLS A STORY
Raw denim is part of our rich legacy. The Lee 101 collection takes artistry in denim to a whole new level by combining archival designs with timeless fabrics, superior cuts, clean lines, and vintage detailing. Style with staying power can be as simple as a great pair of jeans, a canvas jacket, or a wool overshirt. This capsule collection manifests the level of artistry and craftsmanship Lee has been committed to for over a century. When you own a piece from the Lee 101 collection, you own a piece of American history.