Sort By
Sort By
Price: Low to High
Price: High to Low
What's New
Price reduced from

$168.00

to
$119.90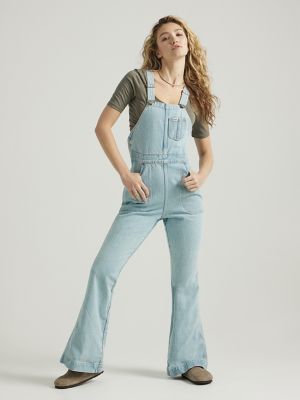 Price reduced from

$158.00

to
$119.90
---
Lee® Overalls, Jumpsuits, Coveralls/Union-Alls for Women
Classic Corduroy Overalls
Corduroy is a classic material for women's coveralls — or any overalls — and for good reason. Corduroy is a chic material that's soft yet durable and can seamlessly go from daytime errands to a quiet evening meal. Style corduroy overalls with a well-fitting long-sleeve top in a solid color to truly embrace the classic aesthetic.
Comfortable Denim Shortall and Denim Coverall for Every Occasion
Bib overalls have remained a wardrobe staple for decades, and with great reason. Denim shortalls are a cool, comfortable option for warm spring days that can continue their use into the hot summer months. Denim overalls are the perfect clothing option for cool spring nights, windy fall days or even the cold winter months when paired with a warm top and jacket.
Durable Jumpsuits for Women
The best part about jumpsuits is that they're a durable clothing option that's an entire outfit in one. Jumpsuits can be worn alone with your favorite pair of sneakers for a laid-back uniform aesthetic. Or you can dress up your jumpsuits with bold statement jewelry and a matching belt.
Versatile Women's Overalls and Lee® Union-Alls
Lee® union-alls are a versatile style option that every wardrobe should have at least one of. These unique clothing pieces come in various styles, from plain white to black pinstriped, so you're sure to find one that matches your unique style and preferences.