Sort By
Sort By
Price: Low to High
Price: High to Low
What's New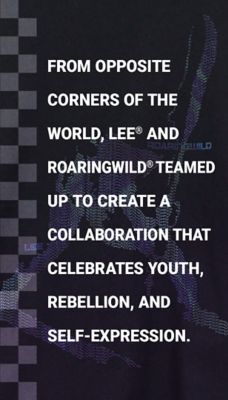 ---
UNLEASH YOUR URBAN SPIRIT: LEE X ROARINGWILD
One of the world's oldest denim brands combines with one of the newer streetwear brands, ROARINGWILD. From '80s inspired jackets and jeans to oversized tees and hoodies, Lee x ROARINGWILD has everything you need to push the boundaries of streetwear.
The unisex collaboration begins with an oversized Rider jacket, inspired by the pioneers of the '80s underground scene, but with modern refinements. This unisex collab also includes matching baggy jeans designed with a baggier silhouette for a classic streetwear style.
Add some artistic flair to your wardrobe with the Lee X ROARINGWILD oversized graphic tees. With 100% cotton construction, and streetwear edge, these are the perfect layering pieces for everyday wearing. In a modern take on unisex hoodies, the Lee x ROARINGWILD oversized graphic hoodie incorporates a laser print design inspired by London's stormy skies. Look street-smart with the whole collection.
Read more
Read less