Sort By
Sort By
Price: Low to High
Price: High to Low
What's New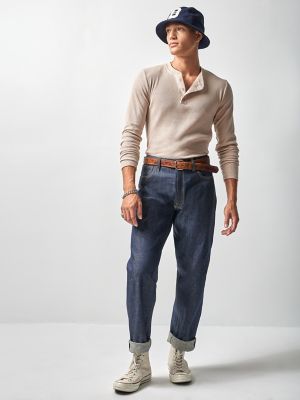 Price reduced from

$285.00

to
$109.99
---
Lee® Men's Selvedge Denim Jeans
If you want jeans that reflect your eye for detail, selvedge denim gives you historic authenticity that sets you apart from your peers. Wearing selvedge jeans shows that you care about quality and recognize the unique benefits offered by this distinctive denim weave style.
What Makes Selvedge Denim Unique?
Selvedge denim is a historical weaving technique that's often done on older looms to retain authenticity. This method takes more time to process, so the materials used are often of the highest quality. A selvedge edge is self-finished, meaning it doesn't need to be threaded over to prevent unraveling.
The edges of selvedge denim are finished with different colored threads when the fabric is woven. When cutting a pattern for men's jeans from this material, the self-finished edges are used to reduce cutting. You can identify this unique element by checking the inside of the cuffs, which will show the distinct lines of the selvedge edging.
Why Should You Choose Selvedge Jeans?
Selvedge denim is often created with the best materials available to produce a high-quality, durable fabric. The signature edging gives men's selvedge jeans a dressier appearance, and those who like to cuff their jeans get to show off this detail.
These versatile jeans can be paired with everything from casual tees to button-down shirts, showcasing your personal aesthetic. Best of all, men's selvedge jeans are built to last, making them a long-term investment in your closet.
Read more
Read less